Backdrop→ For all those who haven't read the previous chapter
http://blognoclog.com/ch-2when-covid-rains-cats-dogs/
, let me inform you, my fate in that Chapter of Coronavirus had had me dumped into a hospital, a private one though, by the grace of The Almighty. This dump was my maiden rendezvous with a hospital other than for child-birth. And without a shred of doubt, the maternity experience was nowhere as frightening and anxiety-laden as this one.
I was here, of course, 'courtesy covid-19' -the trendiest thing happening then worldwide. And I'm known for following trends
& doing them just when they are
viral
(pun intended till my last breath). I got really popular then, darlings!
Anybody catching the virus now is like so stale & "been there, done that'' types. No recognition at all ( SARCASM at top gear)!! Also, nobody lands in a hospital for mild-to-barely-there symptoms like I did & in a way as infamous as mine. Today, the advice for such a patient is merely a "
home-quarantine
". And how unexciting is that?!
PPE- donning doctors in my Coronavirus dedicated ward
I tested positive on 11th & was hospitalized on 12th May 2020.
, Twenty Twenty? Really?? A JOKE IN THE FACE.
Even Twenty20 cricket
, the most revered sport (format) in India
cannot beat
Year 2020
's popularity. Yes! It is that cursed. Cursed, true; but sadly not enough to contain the pandemic. The virus shall be crawling beyond 2020. And did you know, long-lasting effects detected in many patients has even led to the coinage of the term "
Long-Covid'
?
At the hospital :
Though in a hospital, by all means, I was an asymptomatic coronavirus patient, feeling as healthy as I do now. I couldn't take more than 100 steps at a go then and I still CANNOT
, but one thing that the virus certainly does to you is bring down your vitamins & other essential minerals down.
So as I lay, tucked in a hospital bed (a rare commodity now & a rare commodity then). I underwent a flurry of tests like Echo, X-Ray, CT-Scan and the very basic one of having my crimson stream put under the scanner (simply saying 'blood tests' is "Just Not Me"
). This last one betrayed & found me short of magnesium & vitamins B12, D3.
As followed, the doctor-in-charge prescribed me pills for the vitamins
and a magnesium drip which was to be administered by a junior doctor at around 10 pm, a week after I was admitted. A channel was to be set up for the magnesium infusion and this entailed a needle to be inserted into my slender blue veins.
"
A challenging patient
"
, he remarked, I remember as he struggled to locate the right point of insertion.
My arm with the channel on
It hurt :
A few attempts later and these `few attempts' my dearies, meant as many pokes of the needle so the word "few" here isn't exactly as innocent.
Nonetheless, a few pokes after, he was finally able to intrude the carrier needle into my bloodstream. The channel was set and the drip flow controlled via a digital machine
. The Maths
of it was: it would finish delivering the required
40 ml
into my system in a span of 24 hours.
The needle pushed into, near my elbow-pit hurt and the forearm slowly inflamed as the night passed. The swelling was really bad; the doctor too had admitted discontent with his work. But I let that be, else there would be more needling. However much it pained & tweaked, I endured and wrecked all urge to detach it. Couldn't sleep that night! Couldn't even toss my side lest the channel would dislocate.
The whole of next day; I limited my bathroom breaks, in duration and frequency so as to complete my drip-time of 24 hours before the next night. Friends, it was the same day, May 20, when ''Amphan'', the deadly cyclone chose to fire its opening salvo on us. For those whose have forgotten, for I cannot; Amphan is on record, the worst cyclone in decades for Kolkata (India) & the costliest-ever in the North Indian Ocean.
The Deadly Combo- Coronavirus & Amphan Together

!!
The news of the Amphan making a landfall in Bengal & Orissa (India) & Bangladesh was doing the rounds since last few days but its impact, more so, on my then location, Kolkata (Bengal), was unprecedented. The magnanimity of the unnerving cyclone & the subsequent damage it would cause had been grossly miscalculated, read underestimated.
As the evening progressed, the calmness regressed. The rains lashed harder & harder while the winds got berserk. They came at speeds of upto 190 kmph. Chaos reigned in and around Kolkata. Uprooted trees, flattened houses, fallen lampposts, upturned cars, massive power-cuts, swamped streets & homes, unfunctional mobile & internet services, such crises ruled the day.
The coronavirus scare only compounded the crisis.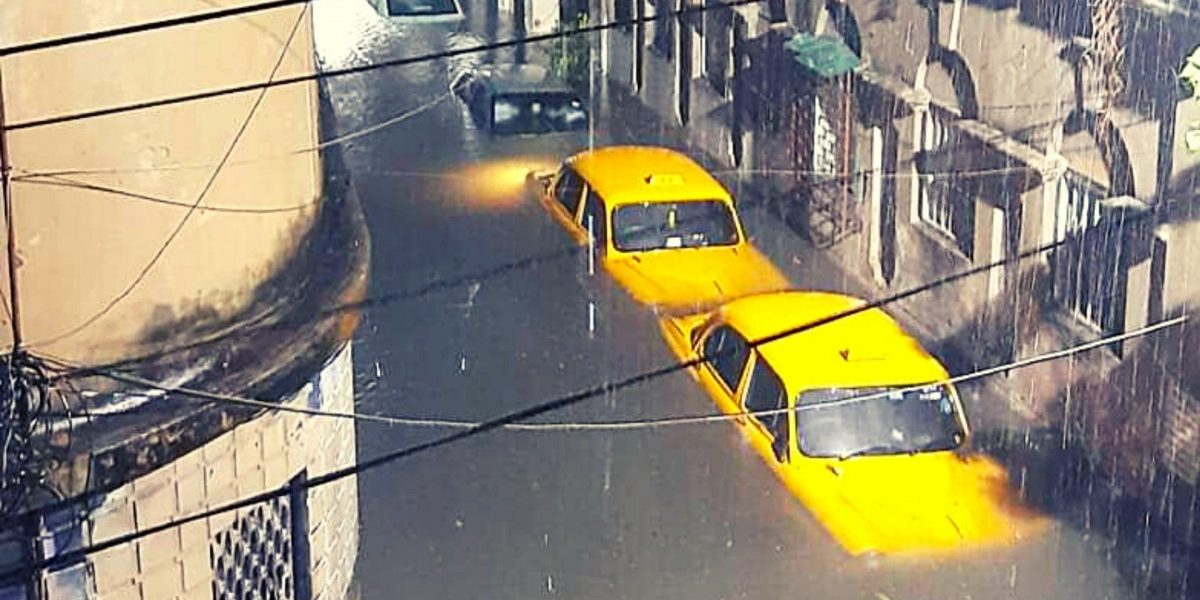 Pictures of destruction #Amphan #CoronavirusTimes
The hospital understandably, was shaken too. Tension mounted as teams of confused doctors, nurses, housekeeping, admin and every grade of staff ran around with business, nursing the hospital building; nursing it more than its residents. There were broken glass panes & the centralized air-conditioning unit snapped.
Luckily, basic electricity was spared but there was water seeping in from corners of the ward floor. Water on hospital floors! Gosh! It was dangerously wet and all moved with extreme caution. Some even stuck to their beds for hours resisting a toilet visit.
The ward where I stayed with 9 other coronavirus patients
Suffocation & PPE

:
My biggest worry and impatience was for the air-conditioning facility which hadn't been restored since 9 and it was already 11 by the clock. Without the cooling, the covid-dedicated staff in PPE (personal protective equipment) suits were miserably hot & found it difficult to move in such gears
. With restricted mobility & unable to see or hear properly with the glasses & head-covers on, they tried their best to revive the facility.
Ventilation was further hampered as the few windows there, had to be shut. The patients who should have been in restful slumber by then were all widely awake, staring at the pandemonium right on their faces. This mishap was especially worrisome for the asthma patients, though it be noted in context here, that respiratory problems are no longer considered the terminal point of the covid malady. This particular coronavirus may affect other organs of the body too, and it may very well be the liver, the heart or the kidney & so on.
In the general isolation ward that I was, the patients' coronavirus statuses ranged from asymptomatic to mild. The worst conditions were of those with uncontrolled diabetes/asthma/ hypertension and/or other comorbidities. Thus, it sufficed that there was only a nurse or two commissioned to our ward, to watch & wait on us. But on this occasion, they were not to be found since we dinnered at 8.30 pm. A couple of them did appear but only to wipe away the water on the floor.
Enough Is Enough !
Though alarmed, I knew that damage-control would soon be in place, considering it was a decent hospital which would have emergency and back –up measures in place. Hence, I was more hooked onto my private aches at this point. Others were on theirs.
By 11 pm, the IV had passed all its 40 ml into me, marking the end of the scheduled 24 hours. Time to take it off! But the question was, how to, since there was no medic in sight. For hours, our ward had been left fending for itself.
Impatiently, I waited for a caregiver to do me that 'big favour' that night; a favour, right? I kept waiting and the clock, ticking.
Finally, when it was 12 & with no visible help to rescue me from my status quo, I decided to eliminate the channel myself. I was not prepared to pass another sleepless night with the ache & the immobility
. While the job would be elementary for a practitioner/nurse with reasonable experience, for me, it was nowhere near easy.
I take it head-on :
The first step would be to stop the device. I tried on a few buttons on the monitor but the uncooperative device kept on beeping & flickering, questioning my deliberation with it. And when it did so, it invited me stares from glued-in inmates. Apparently, other than the coronavirus, there was nothing more interesting happening in their lives. Anxiously, I tried a few more button presses and voila! the device was set to RIP.
Now the more complicated task- Removing the channel! For that, I had to remove the adhesive tapes, withdraw the needle & apply a gel on the punctured area. Hang on! That was all what I knew, not what I'd ever seen.
Spot-bleeding
was my only fear. Worse, it could be excessive. Thought hard & hard and then "
Eureka
; I remembered
YouTube
and all my fears were put to rest. Without wasting time, I frantically glanced over a short, topic-specific DIY video. The rest is history, which I will narrate, don't worry!
Covid ward~the nursing station where I found the medical supplies
Did I do it right ?
I walked towards the nursing station to grab some sterilized cotton and the ointment "thromophob' from the scattered medical supplies in cartons. All eyes were fixated on me as I did so
. Those few minutes, they were souls as powerless as mine, before I watched that help video. But as they say, 'extraordinary times require extraordinary efforts'.*
Nervous and with a rapidly beating heart, I pulled away the sticky tape. Incapacitated, as I worked with just one hand, I slowly and carefully drew away the inserted needle from my hand & quickly plugged the puncture with the ointment soaked cotton lump. Phew! It was done. Did not bleed; not a bit.
Covid Scars~My arm after few days of removing the channel
I beamed in pride, immensely satisfied and relieved of having diligently performed a task so alien to me. Can say, I'd lived up to the saying.* As I sensed achievement, could also feel the pain going away. I proudly strutted towards my bed. My fellow comrades I noticed, looked appreciative. I had walked a story that they would talk about, in their coming days.
Throughout the exercise, I had been constantly aware of those intense but amazed corneas dilating at me alone. The spectators in the Covid playground were nine in number & so was I, on Cloud Nine
.
A job well done! What do you say?!
N.B.  Except the Amphan pictures, all other photos used in this blog are from my own phone camera & been shot in the hospital I stayed.
My Question To You:
Do you think my 'little achievement' was worthy of all the lengthy talk I did, OR; have I made a song & dance about it? Do mention in the COMMENT BOX if the narration was interesting !
SHARE n SUBSCRIBE would mean a lot ! Do take out a precious minute for it.
Meanwhile, here's another one for you! TAP ON THE LINK AHEAD
Challenges I faced as a New Blogger.